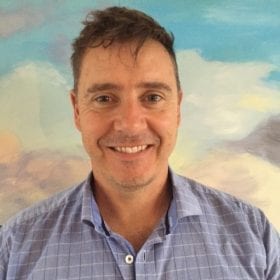 Dr Damian Lloyd has an integral role in our dental team, providing General Anaesthetic treatment options to the patients of Warners Bay Dental. He finds it deeply satisfying to be able to meet his patient's needs, using the latest dental technology, especially where patients are anxious or require the assistance of General Anaesthetic or Sedation.
Dr. Damian Lloyd graduated from Sydney University in 1997, with a Bachelor or Dental Surgery. He has had an active interest in oral surgery and complex dental cases for almost 20 years. He started assisting in hospital work around 2011 and is currently assisting in hospital cases on a fortnightly theatre list.
"Warners Bay dental has been one of my favourite referral base surgeries, as it has great support staff, very knowledgeable and skilled dentists and also a relaxed and modern environment ".
Days Available: By Referral